Flats
Kalyan Developers Announces A Brand-New Chapter In After Sales Ties up with apartment management portal Apnacomplex.com for all its Projects
All that effort of putting your documents together, getting the best terms on your home loan, getting just the right accents to your interiors and orchestrating the big move is finally over and you get ready to move into your dream home. We understand how important it is that you get to live the life you dreamed of and not be bogged down by fresh new concerns.

One of the most neglected aspect in after sales is supporting the association in managing the residential building after Handing it over to them. When it comes to managing the Building, it is always a story of who will bell the cat? Who will be the President, Secretary, Treasurer of the Complex? Taking up the responsibility in managing the affairs of the building always seems to be a painful and thankless job. As a brand that is synonymous with Trust, we are always looking at ways to strengthen our relationship with our customers allay their concerns. Which is why we are taking our after sales service to the next level in a path breaking, first-of- its-kind initiative for Kerala.
To this end, Kalyan Developers has roped in ApnaComplex.com, India's No. 1 mobile and wed based/ cloud based platform for apartment management, to provide our customers a truly smooth & seamless life as envisioned in our brand promise of hassle free, delightful living. We understand that you have chosen the project of your choice based on parameters like location, quality construction and on-time delivery – for all of which you have placed immense faith in us. But we also understand how important it is to make matters as smooth as can be once you move in.
What we are seeking to address
We have noted how housing societies/ resident's associations often struggle with simply getting everyone on the same page – whether it is with regard to regular payment of maintenance fees or organizing general body meetings to staff management and visitor screening, Kalyan Developers now gives you the benefit of the ApnaComplex platform that enables societies to ensure that management of your residential complex is smooth and transparent and completely hassle-free.
Why ApnaComplex.com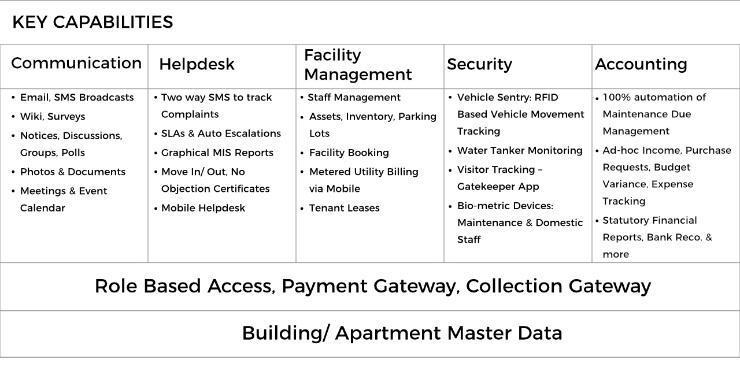 The essence of after sales service for residential units is ensuring that you get to enjoy your new home with worrying about the nitty-gritties. ApnaComplex.com takes care of this in a multitude of ways:
It is a smart integrated platform adapted to mobiles and tablets that is beneficial to all stake holders – owners/residents, committees, security, FM agencies and Service providers.
It has tools to manage every need related to a residential complex
It allows owners/residents to make online payments over a secure payment gateway
It provides a platform for discussions, polling and networking
It helps associations with scheduling meetings, handling tenant leases and utility billing
It can provide an additional measure of security by tracking movement of vehicles, water tankers and Visitors.
It aids in biometric identification of maintenance and domestic staff.
It provides for 100% automation when it comes to tracking maintenance dues and maintaining statutory financial reports.
And these are just the key points. From providing a bulletin board for sharing photographs to complaint resolution forums and reminders, ApnaComplex takes the complexity out of managing a residential complex and allows everyone to breathe free and relax. Kalyan Developers welcomes all our customers to yet another milestone in quality living.