When new apartments, villas or homes are coming up in every nook and corner of your city, it isn't easy to ignore another side of this story. These construction sites harbor large amounts of solid waste and approximately 91% of all C&D waste comes from renovation and demolition. When construction sites are meant to go hand in hand with development, these sites found in the most prime locations generate enormous amount of waste.With our rapidly growing real estate sector, there is a huge increase in the number of people buying new 2 BHK/ 3 BHK apartments in the city and this has significantly triggered the growth of the construction
sector. Safe disposal of the waste generated out becomes a huge issue for the builders, and owners.
There is also a shortage of natural resources for the construction of buildings which is due to the poor management of C&D waste that's gets accumulated over a period of time. There is a rising concern among residents of the apartment or villa and even in the neighborhood of the site.
What does C&D waste consist of?
The C&D waste that is accumulated as a result of the construction of new apartments, can be put to a list of various uses. It will help reduce the cost of production of new materials along with the excessive consumption of natural resources. Some of the commonly found C&D waste is as follows: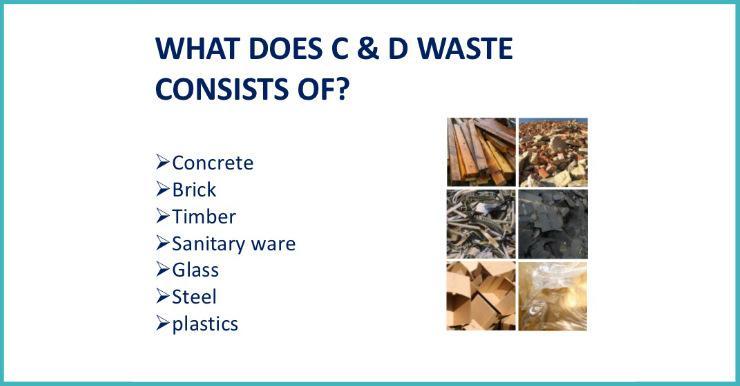 BRICKS
Bricks are used in construction sites as a source of crushed material to create fill or base of high quality. Brick masonry contains up to 20% of mortar by volume. Crushed brick and roofing tiles were earlier dumped in the landfills, but now it is mostly recycled into mortar plaster and building rocks.
WOOD/TIMBER
Another most commonly found building material that comes under C&D waste is wood or timber. Natural wood debris can be ground up and put to horticultural use. They are used as an efficient source of industrial fuel, landfill cover and for many building operations.
CARDBOARD
The most common building packaging material is the corrugated cardboard; which makes it a key component of the C&D waste stream due to the fact that many building materials are shipped to the site in a pre-fabricated, finished state. As long as it is dry, it is one of the most readily recyclable materials. The cardboard recycling market is well developed and it is usually processed and recycled into new cardboard containers.
CONCRETE
The commonly found concrete is one of the most recycled materials in the world. The primary market for recycled concrete is as a base product for buildings and roads. Crushed concrete and brick can be used as the primary surface material on rural roads and driveways and in drainage applications. It is used as borrow pit fill and also in residential constructions.
SANITARY WARE
These include tiles which can be reused as such if not damaged. If it is chipped or cracked; it is crushed further to make it into construction in-fill and also as filler in concrete. Pozzolanic value of such powdered sanitary ware is a desirable property in concrete mixes.
GLASS
Glass that's found in most construction sites can be recycled to help decreasthe amount of non-biodegradable glass out of landfills. It is also a good substitute for Quartz and Feldspar in the manufacturing of high strength porcelain sanitary ware.
METAL/STEEL
Metal is present in small amounts in residential C&D projects. It comes in the form of wiring, siding, fasteners, and roof flashing. When low value metal is present in sufficient amounts, it is recycled in the scrap metal market. Steel is the most commonly used metal in the world. The world produces over 783 million tons of raw steel. It currently recycles over 320 million tons of iron and steel every year. Scrap metal can yield up to 76% of energy savings.
PLASTIC
It is a well-known fact that plastic is in over-abundance due to its nature, making it most difficult to dispose. It can be shredded and used as fillers in other materials and in construction of roads. Household plastics can be recycled to obtain light weight aggregates for mortar. It helps in the possibility of cracking.
Challenges faced in most construction sites
Construction sites which are congested with heavily built-up areas lack a proper storage system or an alternative space for storing the materials used for construction.
Another major challenge is the absence of ownership of the waste, due to the presence of multiple contractors in most of the construction sites.
Lack of awareness among the workforce about the various methods of storing the C&D waste and measures to recycle or reuse them is another major challenge face in construction sites.
Two pillars of waste management
REUSING OF C&D WASTE:
Reusing is something that does not require much processing to transform the waste into useful products. Further screening is not done to process these items which can be reused and they are directly taken from the debris.
RECYCLING OF C&D WASTE
All the waste materials generated from there can be then further segregated. Reusable items can be taken out and the leftover material can be further processed to convert them into useful products.
Advantages of proper waste management
Earlier demolished concrete were shipped to landfills for disposal, but due to greater environmental awareness, now it is being recycled for reuse in concrete works. There are various benefits in recycling C&D waste instead of dumping it in a landfill. Some of the benefits are:
Local product local sources
Reduces truck traffic
Alternative to a non-renewable resource
Saves overall cost
No disposal fees
Reduced costs of transportation
The management of C&D waste is on its road to improvement in India, with the government taking measures like 'The Clean India campaign' to get rid of illegal dumping of C&D waste that blocks large stretches of natural resources. Now huge amount of waste from demolished buildings and constructions are being reused for new constructions and renovation projects, especially by low-income communities in developing countries.
While you decide to buy a 2 BHK or 3 BHK apartment to fulfill your goal of a dream home, ensure that
you associate with a builder that utilizes all resources optimally to give you the best construction quality. At Kalyan Developers we ensure the complete satisfaction of all our customers while they buy ourluxurious apartment or 2BHK 3 BHK homes, and even after they move in. We look into the minutest of detail to ensure excellent management of our C&D waste management that ensures satisfaction of all our residents as well as our neighbors. Come join hands with Kalyan Developers – the most trusted builder of Kerala.